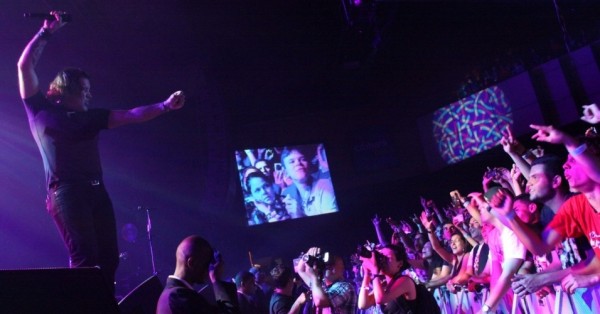 In the audience, a young man wearing a shirt with the phrase "play Pearl Jam, thief." On stage, the band "magpie" in question was trying to show that despite the singer's voice resembles that of Eddie Vedder, the resemblance stopped there. One can not compare the Creed with the Seattle group, even for the confusion that some fans do for certain songs the quartet of Florida, which resemble the sound of PJ too. But, at least live, this is the only major downside, if one can call it that, the music of Creed. On Sunday (25) evening to a packed Credicard Hall, frontman Scott Stapp continued reminding Vedder on songs like "Torn" and "With Arms Wide Open", but also helped colleagues to show that the band could easily hold a show at a place higher. Accordingly, Stapp is the driving force. Stirs the audience to sing entire verses alone, as he did in "My Sacrifice", or call the audience to sing along with it, as in "What's This Life For".

The base of support for the singer's powerful. Mark Tremonti is a great guitarist, who, besides taking care of the arrangements of the group, doses can give weight to the Creed, at times, resembles quite a heavy metal band. At the same time, is a musician in precise dosage virtuosity. It is contained in soils, but causes extreme skill. It also knows how to play to the audience. At the entrance to the encore, the song morphed into "olê, olê, olê, olê, Creed, Creed" (pronounced "cri-take", "cri-take", to rhyme) that fans chanted since the beginning of the presentation.
Live, the band performs with a second guitar, which comes to give more weight to the work of Tremonti. With 15 minutes late, all dressed in black musicians appeared on a stage with just a few lights as a backdrop. Outside, the group has been doing gigs where played, in full, their first two albums. In São Paulo, was not so different. Of the 17 songs on the set list, 13 were the first and second album, and only one, "A Thousand Faces", left the room and latest work, "Full Circle", 2009. 's climate "show arena" had a peak in "My Own Prison", with couples kissing and girls standing on the shoulders of guys. Excess ballads is something that bothers a little, but the public did not seem to care much. 1:48 a.m. After the presentation, the impression is that Creed did in Sao Paulo the best stage show that was not in the stadium in 2012. presents The Creed is the second in Porto Alegre, and on the 1st of December in Belo Horizonte.
Article quoted and translated from: http://musica.uol.com.br/noticias/redacao/2012/11/26/creed-faz-em-sao-paulo-o-melhor-show-de-estadio-que-nao-foi-em-estadio-em-2012.htm